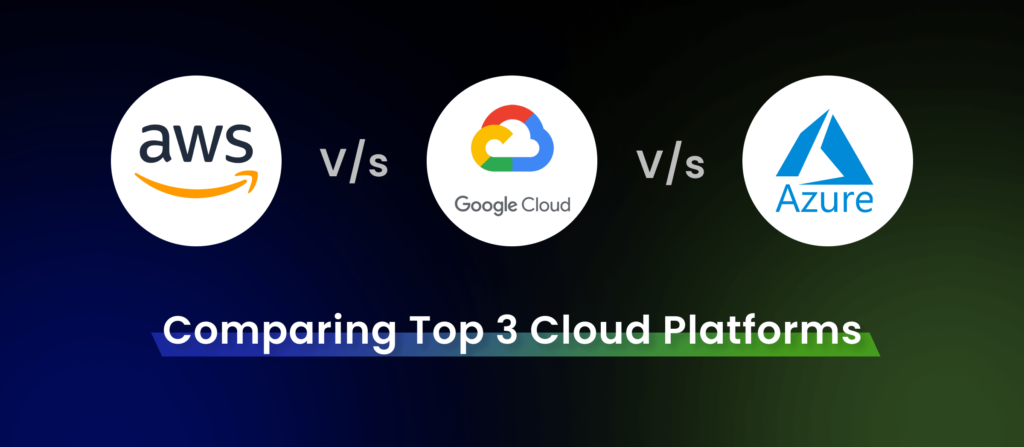 Cloud computing has progressed considerably since its start. The decision of which cloud platform to use has replaced the earlier dilemma of whether to choose cloud computing or not. AWS, Azure, and Google Cloud Platform stand out proudly as the top three cloud providers in a market that is flooded with countless cloud providers for computing. Consequently, how do you make a decision? How do you wrap up the significant discussion between AWS, Azure, and Google Cloud? To find out the answers to all of these questions, read this blog.This blog on AWS vs Azure vs Google Cloud highlights and elaborates the major factors of comparison among AWS, Azure, and GCP.
AWS vs Azure vs Google Cloud: Establishment 

Amazon Web Services
An on-demand Cloud Computing platform is made available to people, organizations, and governments on a paid-subscription basis by Amazon Web Services, a division of amazon.com.
The oldest and most seasoned company in the cloud business is Amazon Web Services. Being one of the more established cloud service providers, it has built up a larger user base as well as more trust and dependability characteristics.
Elastic Compute Cloud (EC2), Simple Storage Service (Amazon S3), and other services were made available through AWS when it first went public in 2006. Elastic Block Store (EBS) was made available to the general public in 2009, and services like Amazon CloudFront and Content Delivery Network (CDN) more formally joined the AWS Cloud Computing Service portfolio.
Microsoft Azure
In 2010, Microsoft Azure—then known as Azure—was introduced with the goal of giving companies a reliable Cloud Computing platform. Although the word "Azure" is still often used, the product was rebranded to "Microsoft Azure" in 2014. When compared to its rivals, Microsoft Azure has made significant strides since its debut.
Google Cloud Platform
The Google Cloud Platform (GCP), a set of cloud computing services that Google provides, employs the same internal architecture as Google's end-user products including the Google Search engine, YouTube, and more. In less than ten years after its launch in 2011, Google Cloud Platform has managed to establish a solid foothold in the cloud sector. Google Cloud was initially designed to boost Google's own products, like the Google Search engine and YouTube. To allow everyone to utilize Google Cloud Platform, which uses the same infrastructure as Google Search or YouTube, they have now also released their corporate services.
AWS vs Azure vs Google Cloud: Availability Zones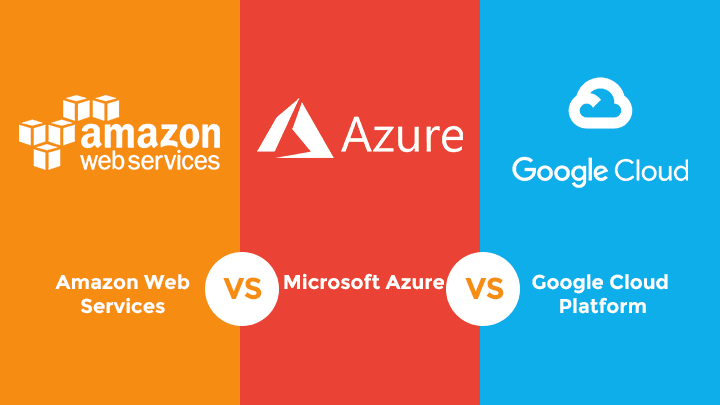 The fact that AWS was the pioneer in the field of clouds has already been proven, giving them an advantage in terms of network development. As a result, AWS hosts in many countries throughout the world. While both Azure and GCP provide hosting services in several locations throughout the world, they differ in the amount of availability zones they offer.
AWS has 66 availability zones with 12 more on the way.

Azure has 54 regions worldwide and is available in 140 countries all around the world.

Google Cloud Platform has been made available in 20 regions around the world with 3 more on their way.
AWS vs Azure vs Google Cloud: Pricing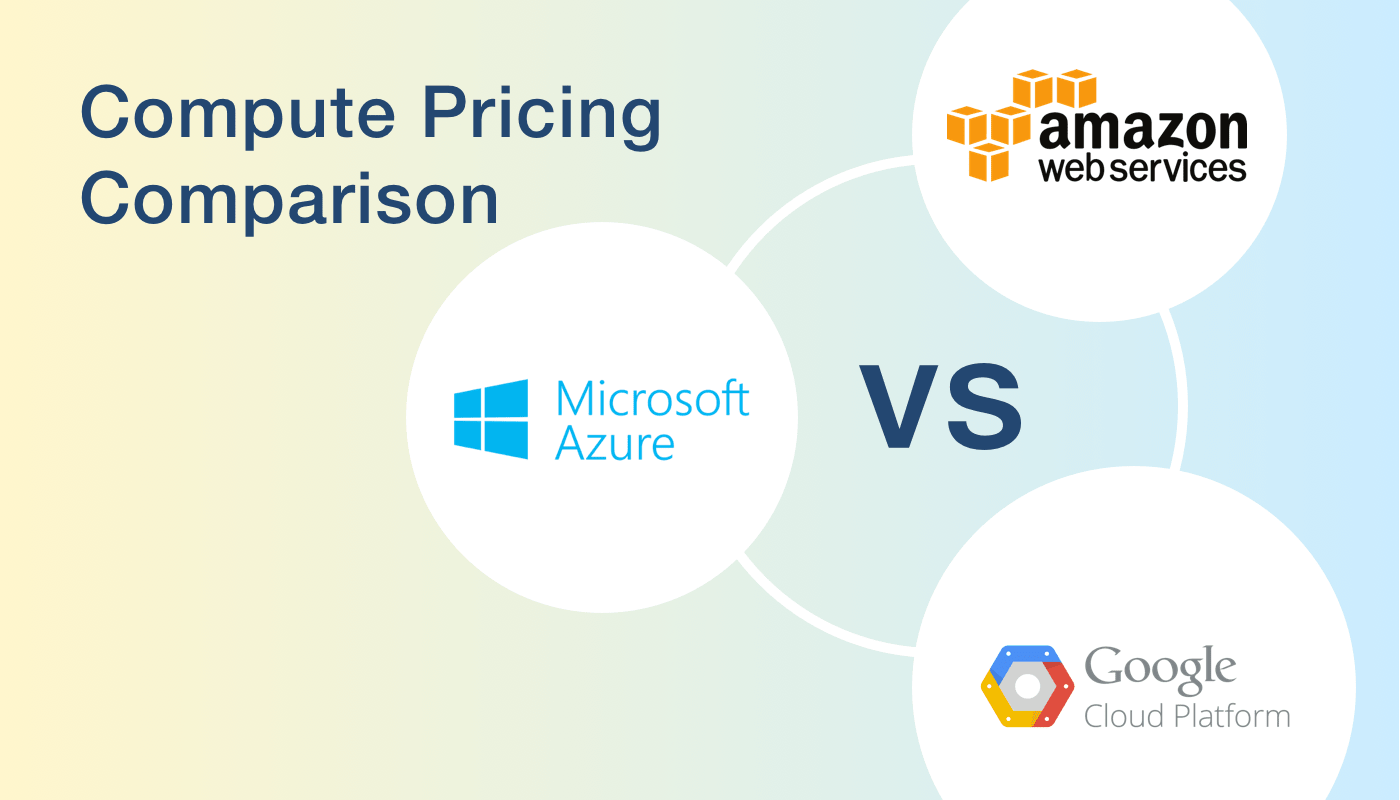 The price structures of AWS, Azure, and GCP are contrasted below based on the machine types that each offer:
| | | |
| --- | --- | --- |
| Machine Type | AWS | AZURE |
| Smallest Instance | A very basic instance with 2 virtual CPUs and 8 GB of RAM on AWS will run you about US$69 per month. | You will pay about US$70 per month for the same sort of instance on Azure, i.e., an instance with 2 vCPUs and 8 GB of RAM. |
| Largest Instance | AWS's biggest instance, with 3.84 TB of RAM and 128 vCPUs, will run you about $3.97 per hour. | Azure's biggest instance comes with 3.89 TB of RAM and 128 vCPUs. It costs about $6.79 USD each hour |
AWS vs Azure vs Google Cloud: Who Uses Them?  
AWS has a larger user base and community support than any other participant in the cloud industry since it has been around the longest. As a result, AWS has more well-known and high-profile clients, like Netflix, Airbnb, Unilever, BMW, Samsung, MI, Zynga, and others. With time, Azure is also picking up its fair share of well-known clients. Currently, roughly 80% of Fortune 500 organizations are Azure's clients. Johnson Controls, Polycom, Fujifilm, HP, Honeywell, Apple, etc. are a few of its top clients. 
Conversely, because Google uses the same infrastructure as YouTube and Google Search, many high-end businesses have confidence in Google Cloud. HSBC, PayPal, 20th Century Fox, Bloomberg, Dominos, and more are some of Google Cloud's biggest customers.  All of these cloud service companies provide different cloud computing services, which are necessary for every fundamental organization. The number of these services is where the disparity exists.
AWS vs Azure vs Google Cloud: Hybrid and Multi Cloud Options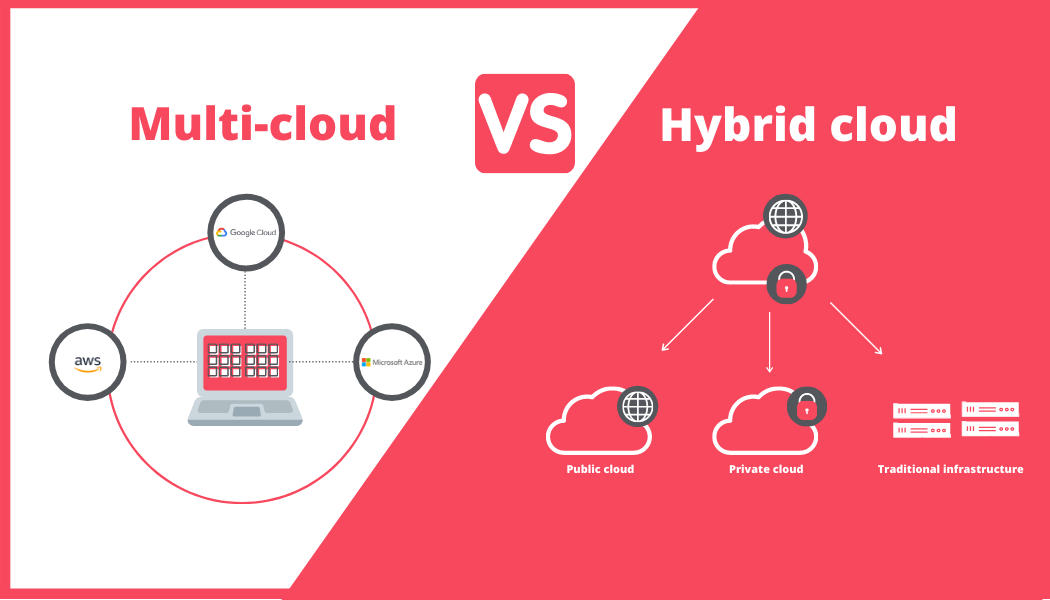 All three providers offer various tools to give clients additional flexibility, but they have not yet invested considerably in hybrid and multi-cloud products.
AWS Hybrid and Multi Cloud
AWS Snowball

AWS Snowcone

AWS Outposts

AWS Local Zones

VMware Cloud on AWS

AWS Wavelength

Amazon ECS Anywhere

Amazon EKS Anywhere
Azure Hybrid And Multi Cloud
Azure Arc

Azure Backup

Azure Active Directory

Azure Security Center

Azure Blob Storage

Azure Stack

Azure Centinel
Google Cloud Hybrid and Multi Cloud
Anthos

Traffic Director

Looker

Cloud Build

Operations

Cloud Run for Anthos
AWS vs Azure vs Google Cloud: Pros and Cons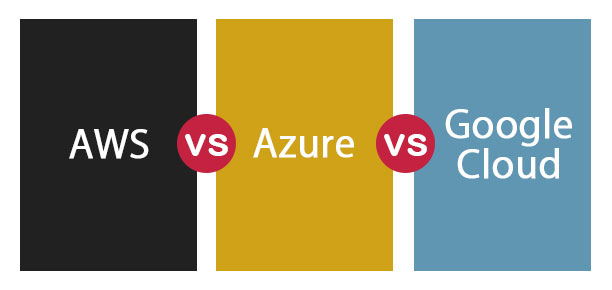 It goes without saying that AWS, with a 33 percent market share overall, is the leading competitor in the cloud computing sector. The popularity of AWS's 200+ managed services and how simple it is to utilize them is one of the apparent causes of this.
In addition to this, AWS has a number of other benefits that set it apart from the competition. Its operations span a vast area and are supported by an extensive global network of data centers. AWS has emerged as the most developed and enterprise-ready service because of its simplicity in offering scalability and comprehensive security to its consumers.
AWS has a drawback in its price policy in addition to these advantages. Despite the fact that businesses believe AWS to be the greatest cloud service provider, they usually have concerns about its pricing. Despite periodic price decreases from the provider,many organizations still find it difficult to understand AWS's pricing model and effectively manage those costs while using the service for high-volume workloads.
Microsoft Azure: Pros and Cons
Microsoft made its foray into the cloud market by moving its on-premise services, including Windows Server, Office, SQL Server, Sharepoint, and others, there. As Azure is connected with other apps that are often used by most enterprises, this enables Microsoft to distinguish itself from its rivals. Microsoft also offers large savings on service contracts to its clients.
The platform's ongoing maintenance requirements and the high level of technical proficiency necessary to operate Azure are some areas where Microsoft falls short. Organizations rely on Azure for their on-cloud needs since the platform's many advantages frequently exceed its drawbacks.
Google Cloud: Pros and Cons
A formidable rival in the market for cloud services is Google Cloud, which also offers Google Workspace. Since Google created the Kubernetes standard, which is currently used by AWS and Azure, it began to sell containers. The Google cloud has extensive scalability and load balancing capabilities and specializes in high computation solutions like big data, analytics, and machine learning.
While Google Cloud provides certain benefits, there are a few downsides as well. Google doesn't have a customary relationship with business clients. However, it is rapidly enlarging both its product line and its network of data centers throughout the world. We may see Google Cloud challenging Amazon and Azure in the future.
AWS vs Azure vs Google Cloud: What is Best for You? 

Let's conclude this blog post comparing Azure, AWS, and Google Cloud by examining their most important benefits and drawbacks. Which cloud provider would be declared the winner for each of the aforementioned characteristics, then?
Establishment: With a head start of 5 years, the winner here is AWS.

Availability zones: With a greater number of regions and availability zones, the winner here is AWS.

Market shares: With around one-third of market shares in its name, the winner here is AWS.

Growth rate: Having a growth rate of almost 100 percent, the winner is GCP.

Who uses them: With various high-end customers using all three cloud platforms, it's a tie!

Services:

When it comes to the number of services, the winner is AWS.

Regarding the integration with open-source and on-premise systems, such as MS tools, that are mostly used in almost all organizations, the winner is Azure.

Pricing Models: With more customer-friendly pricing models and discount models, the winner here is Google Cloud.
AWS comfortably defeats all other major cloud providers in today's cloud war between Azure, AWS, and Google Cloud thanks to its higher point total. Given that Azure and GCP are tenaciously climbing the list of top cloud providers, it's difficult to predict how long AWS will hold the title of top provider. Although being the first of its sort gives AWS an edge, Azure and GCP each offer their own set of advantages. Since Microsoft technologies are simple to connect with Azure cloud, using Azure cloud makes more sense for many firms who utilize MS tools.
Customers just need to choose GCP because it has the finest price structure for the infrastructure that supports the Google Search engine and YouTube.Given this, it would be wiser to state that selecting the best cloud provider for your needs is more important than selecting the greatest cloud provider overall.